IAFF Local 3808 LODD - Thomas G. Byrne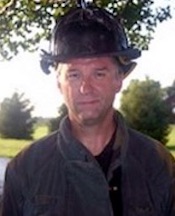 Thomas G. Byrne, 51, of Kansas City, MO., passed away February 11, 2017 at Saint Luke's East Hospital. A visitation will be held at Our Lady of Sorrows Church, 2552 Gillham Rd, Kansas City, MO., on Tuesday, Feb 14th from 4-8pm. Mass of Christian Burial will be held at 10:00 am Wednesday, Feb. 15, at Our Lady of Sorrows Church. Burial will follow at Mt. Olivet Cemetery. Tom was born June 22, 1965, in Kansas City, MO., to John and Helen (Bollinger) Byrne.

He was a 30 year veteran of the Kansas City Fire Department and retired as a Battalion Chief. Throughout his career on the fire department he was dedicated to the safety of the public and his fire department family. He joined the Brotherhood Instructors, LLC, which allowed him to travel the United States and Canada teaching fire safety tactics. He was a member of the Federal Emergency Management Agency during the September 2001 attacks. He was a member of the International Association of Firefighters, Local 3808.

Tom was preceded in death by his father, John F. Byrne (January, 2003). He is survived by: wife, Stacy; daughter, Colleen; mother, Helen Byrne of Kansas City, MO.; sister, Debbie; brother, Michael of Kansas City, MO; brother, Kevin of Overland Park, KS; sister Ann (Kevin McGinnis) of College Station, TX; and brother Stephen (Andrea) and several nieces and nephews: Riley, Derek, and John Byrne, Joey, Megan, Julia, and Matthew McGinnis, and Lila O'Sullivan.

The family would like to thank all of Tom's doctors and nurses at the various hospitals and clinics where he received treatment. We extend a special thank you to the ICU nursing staff at Saint Luke's East Hospital who helped him to be comfortable in his final hours.

In lieu of flowers, memorial gifts are suggested to the Healing NET Foundation, 200 Hill Avenue, Suite 4, Nashville, TN 37210 or at www.thehealingnet.org. The Healing NET Foundation's mission is to support education and awareness of neuroendocrine cancer among community physicians, and help patients advocate and navigate the path to the best possible care. Please offer condolences at www.mcgilleystatelinechapel.com.