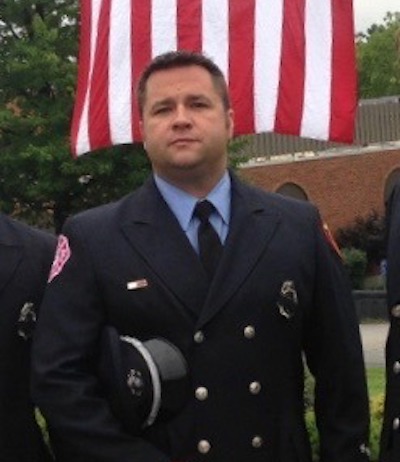 It is with great sadness the Maryland Heights Fire Protection District and International Association of Fire Fighters Local 2665 announce the Line of Duty Death of Firefighter Paramedic Chris Moore, who suffered a medical emergency while on duty June 6, 2019.

Firefighter Paramedic Moore died Saturday June 8, 2019. Firefighter Paramedic Moore began his fire service career in 1991 as a Junior Firefighter with the Metro West Fire Protection District. He then served as a Volunteer Firefighter with the Eureka Fire Protection District in 1995 and was promoted to a career Firefighter in 1998. In 2001 Firefighter Paramedic Moore started his professional career with the Maryland Heights Fire Protection District, where he served 17 years until his untimely passing.

Firefighter Paramedic Moore was a proud member of IAFF Local 2665 and served with Missouri Task Force 1, where he was deployed to New York for 9-11 and Louisiana's Hurricane Katrina. Firefighter Paramedic Moore received several Medals of Valor for actions taken on emergency incidents.

Firefighter Paramedic Moore is survived by Children Tori and Christopher (CJ), and parents Wayne (Sandy) Moore, Kathryn Moore (Paul Thrapp) and his sister Candice. Visitation is from 2PM – 8PM Thursday June 13, 2019 at Grace Church 2695 Creve Coeur Mill Road, Maryland Heights Mo. 63043. A uniformed member walk through will occur at 7PM.
Full honor funeral Services will be held 11AM Friday June 14, 2019 at Grace Church 2965 Creve Coeur Mill Road, Maryland Heights MO 63043. Burial will take place at Holy Cross Cemetery 16200 Manchester Road, Ballwin Mo. 63011.

Memorials to Missouri Fire Funeral Team or Backstoppers. --Casket Vigil coordinator – Jan Riedisser 314-393-4937 --If you are planning to bring apparatus, please contact Dale Hart 314-420-0825 --Honor Guards please Text Tom Bacon at 314-713-9177 --Pipes and Drums please contact Matt Mathes 314-630-1306 --IAFF Related Questions please contact Shop Steward Matt Taetz 636-266-1591 A block of rooms have been reserved at Hampton Inn 2454 Old Dorsett Road, Maryland Heights Mo 63043. Reserve at 314-298-7878 referencing Maryland Heights Fire to receive the $89 rate per night. Hotel offers airport shuttle, local area shuttle, and late checkout on Friday, if needed.