LODD: Captain Ivan LaGrand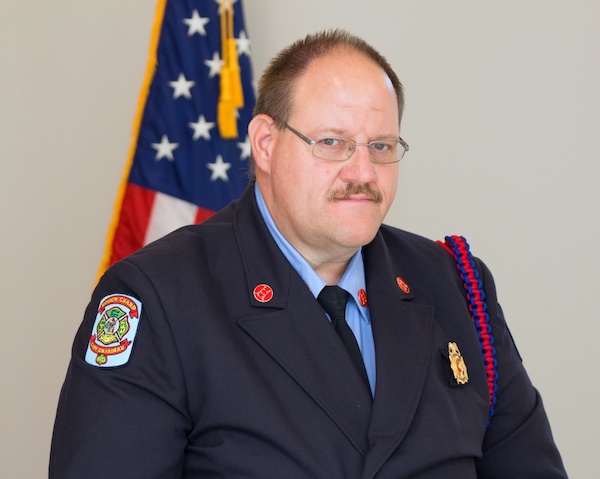 With great sadness, the Cape Girardeau Fire Department and IAFF Local 1084 announce the death of our friend and family member, Captain Ivan LaGrand. Ivan passed Wednesday evening, December 1, 2021, after a brief battle with COVID-19.

Ivan has served our community since August 1996, and was looking forward to retirement in about a year. His humor and care for his brothers and sisters in public safety will be greatly missed.
Captain Ivan LaGrand was a public servant for his entire adult life. Captain LaGrand started his career in emergency medical services with North Scott Ambulance District and worked as a full-time paramedic from 1987 until his hire at Cape Girardeau Fire Dept. in 1996. He continued as a part-time employee with North Scott Ambulance District until 2005. He Joined NBC Fire Protection District in 1990. Rising through the ranks, he retired as Chief of the District in 2012. Captain LaGrand continued on with his public service life and became a DPS officer with SEMO University from 2001-2011. Captain LaGrand also played a pivotal role in educating young minds to become emergency medical technicians as an instructor for the Career and Technology Center here in Cape Girardeau. Captain LaGrand also assisted with teaching Firefighter 1 and 2 classes and CPR Classes at Cape Girardeau Fire Department until his passing. Ivan was also a founding member of Seniors and Firefighters Engaged (S.A.F.E.) that assisted in promoting fire safety within our senior community. He served as a Reserve Deputy and Emergency Dispatcher for the Bollinger County Sheriff's Department. Ivan was a member of the Fire Marshals Association of Missouri and the Jefferson County Fire Marshals Association.

The community is encouraged to line the procession route in a show of support. The Mayor of Cape Girardeau requested all flags be at half-staff through dusk the day of interment.

Public services are as follows:

Visitation
2PM – 8PM Monday, December 6, 2021, at the La Croix United Methodist Church, 3102 Lexington Ave, Cape Girardeau, Mo.
A uniformed member walk-through will assemble at 7:30PM, this will conclude the services.

Those wishing to stand Casket Vigil should contact Scott Bennett – 618-697-2855.

Funeral Services
11AM Tuesday, December 7, 2021, at the La Croix United Methodist Church, 3102 Lexington Ave, Cape Girardeau, Mo.
Honor Guards / Pipes & Drums are requested - contact Scott Bennett – 618-697-2855.

Agencies wishing to bring staff vehicles and/or apparatus for the procession should contact Greg Foote – 573-380-5935.